School Meals
School meals are cooked on the premises and we encourage the children to try the range of the food on offer. Please visit Derbyshire Catering to find out more information.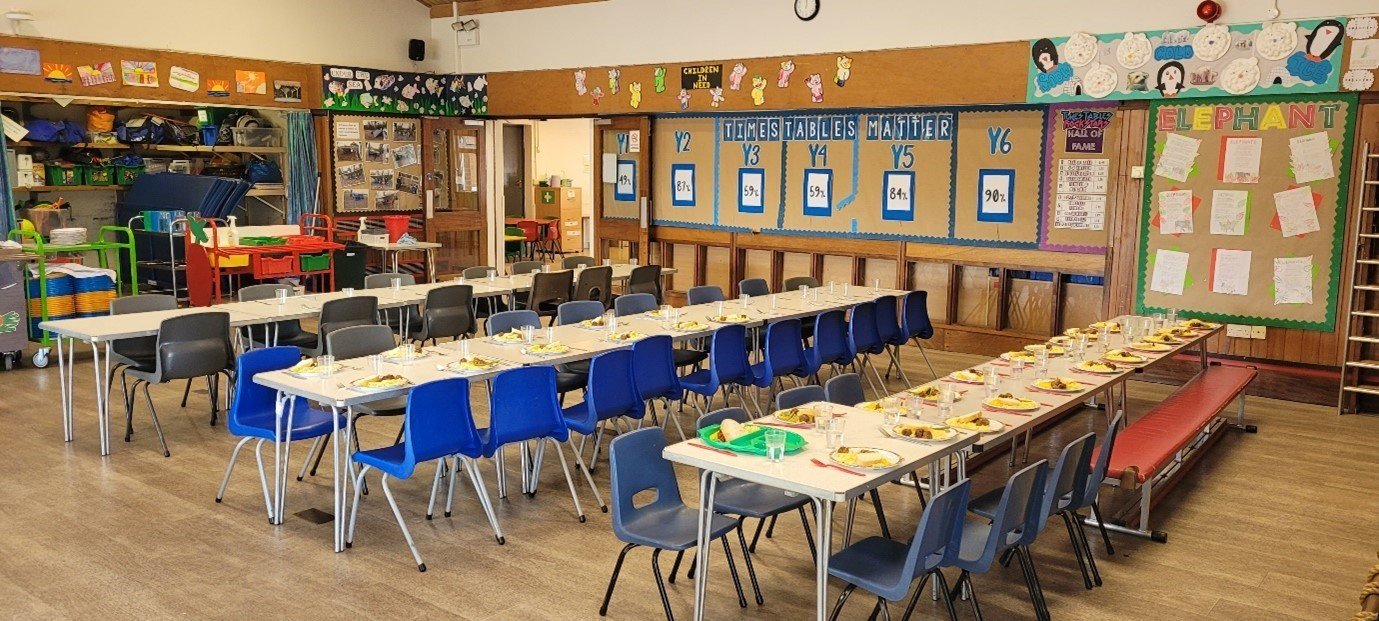 For children in Years 3-6, the cost of a school meal is £2.20 per day (£11 per week). Dinner money should be paid via the ParentPay system on or before Monday of every week.
The menu changes twice a year. The new school menu (below) will come into effect w/c 17th April and will run until w/e 3rd November 2023. We ask all our families to decide upon a weekly pattern for lunch time at the start of each half term. For example, school dinners every Monday, Wednesday and Friday, and sandwiches on a Tuesday and Thursday. This pattern would then remain in place for a full term. If your child then wishes to change their pattern we ask that you email enquiries@waingroves.derbyshire.sch.uk.
Look out for special 'Theme Days' when there is a special menu different to the normal one. These can be found at the bottom of the menu.
If your child prefers a packed lunch, please ensure that lunch boxes are clearly labelled with their name. However, please note, we DO NOT ALLOW PEANUTS OR PEANUT BUTTER due to some children in school having severe allergies.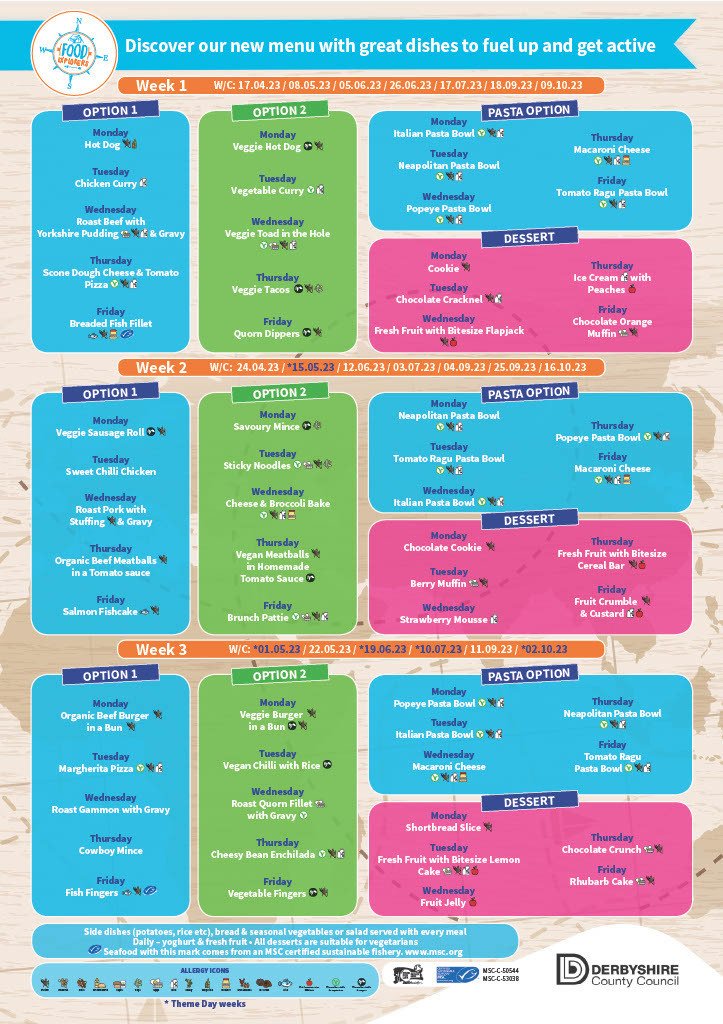 Universal Infant Free School Meals
In 2014 the Universal Infant Free School Meal (UIFSM) policy was introduced. All children in Reception, Year 1 and Year 2 are entitled to a free meal regardless of personal circumstances. This is subject to change with government policy.
Free School Meals
All children aged 3 to 18 at Derbyshire nurseries or schools can get a free meal if they qualify.
Qualifying criteria:
Universal Credit, provided they have an annual net earned income not exceeding £7,400 (£616.67 per month)

Income Support

Income-based Jobseekers Allowance

Income-related Employment and Support Allowance

support under Part 6 of the Immigration and Asylum Act 1999

the guarantee element of State Pension Credit

Child Tax Credit (provided you're not also entitled to Working Tax Credit and have an annual gross income of no more than £16,190) as assessed by HMRC

Working Tax Credit run-on (paid for 4 weeks after you stop qualifying for Working Tax Credit)
For more information, if you think your child may be eligible for a free school meal because you are in receipt of one of the above benefits, please click here.
Medical/Religious Diets
Derbyshire Catering Services believe that the provision of medical diets is an important part of the service we offer to pupils, parents/carers and schools. We work in partnership with schools to ensure pupils who require an alternative diet due to medical reasons are catered for.
If your child requires a medical diet, please complete Part A of the Medical Diet Form below and return to the school office.