Our teachers are:
Mrs Cox and Mrs Mannion
Teaching Assistant- Mrs Bates
PE teacher- Miss Naylor
In Year 5 we always work hard-we are a great team and look after each other :)
Please see the documents below to learn more about Year 5.
Our Class Curriculum Maps and Our Learning Journey so far.
Click to find out more information about our topics during the half term. You can also see our learning journeys so far, which share what we have already covered during our learning journey through school.
We have been busy decorating our reading area with our favourite book covers. We are really proud of your art work. Well done Year 5!
Thank you for supporting Comic Relief with all of your donations! Well done to our red nose makers - some fantastic ideas and all completely different!
We had a fantastic book day! We really enjoyed dressing up and decorating potatoes as different book characters. We also shared our favourite books at playtime. Mrs Mannion dressed up as Lil from our class book :)
We had a fantastic time during Bikeability. We are so proud of you so far you all did so well!
Team Building Event
Today we enjoyed trying to create the tallest structure using newspaper. It was really good fun and we all worked hard in our colour groups to create the tallest structure. Don't you think we did a good job?
This half term we are all taking part in Forest School with Mrs Mannion and Mrs Bates.
Check back each week to see what we have been up to!
Week Five Forest School
Today at our final Forest School we used a saw to cut a branch, then made a hole in it with a drill to make a necklace. We decorated our necklaces. We also tried to make our own cord out of raffia and enjoyed a hot chocolate. We even did a spot of fishing in the pond, and we caught a fish!
Thank you Mrs Mannion and Mrs Bates for making forest school so much fun!
Week Four Forest School
Today we were really excited we had a fire! We used a fire strike to make sparks- some of us managed to set fire to a piece of cotton wool! We cooked popcorn over the fire in Mrs Mannion's special pan then we toasted marshmallows. Some of us made jewellery from the acorns that Summer and Ryan brought in.
Week Three Forest School
We used maps of the school grounds for orienteering, we had to find leaves and then identify them using a guide. We also made mud faces and a leaf string decoration.

Some of us dug in the digging area and drilled holes through the conkers that Alexander and Dexter brought in for us.
Week Two Forest School
This week we used secateurs and lashing to make a stick person. We then used a hand drill and conker clamp to thread a conker/acorn and made a 'thing string'. Finally, we enjoyed a well earnt hot chocolate!
Week One Forest School
This week we enjoyed making our own ink using blackberries, vinegar and salt. We then pretended to be soldiers and used a feather quill to write a letter to Harold or our families.
We learnt how to make a one poled tipi shelter (just like the tents they would have used in 1066).
Our first day in Year 5 :)
Summer Term 2
We have had a fantastic start to our topic. We have been exploring fruit and removing their seeds to dry out to plant. Prepared vegetable tops to try and grow our own vegetables.
We have also made our very own Jack and the Beanstalk bags and grass heads and can't wait to watch our seeds germinate!
We had great fun playing headbands with Mrs Bates and trying to identify which animal, insect, bird or amphibian we were :)
Spring Term 2
Check out our amazing personal study work.
Space Centre Trip
We had a fantastic day at the Space Centre it really was out of this world!
Spring Term 2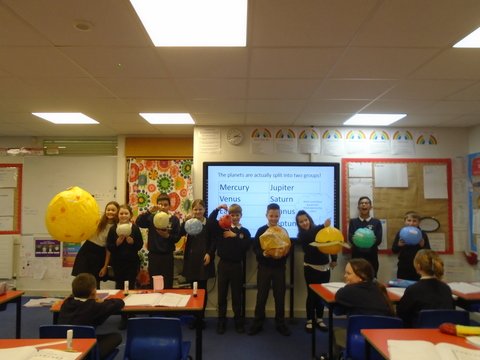 This half term we are learning all about the Solar System. We have enjoyed ordering the planets and learning more about them. We even learnt a fun song to remember their order!
We learnt all about night and day using torches and globes.
Spring Term 1
This week in our topic lessons we have been learning all about the Gods and Goddesses. We used our new learning to create our own Gods and Goddesses Top Trump cards, and have enjoyed playing a game together. We have made our own cartouche from clay and written our names inside them using hieroglyphs.
This week we have learnt about Howard Carter's discovery of King Tutankhamun's tomb. We had a fantastic afternoon travelling back in time and exploring his tomb with Mrs Bates. Through role play we discovered the layout of King Tut's tomb and what treasures were found there. It was so exciting!
We enjoyed learning about pyramids with Miss Smith. We made our very own pyramids using spaghetti and marshmallows! They were amazing! We had a great afternoon!
This term we are really excited to be learning all about the Ancient Egyptians.
We have started our topic by learning more about mummification. We enjoyed mummifying our tomatoes and can't wait to see how they turn out!
Enter text...
Autumn Term 2
This week we have kicked started our new topic Science Investigators with our WOW! activity. We had great fun making spooky Halloween slime using corn flour and water. We made it even more special by adding food coloring and Halloween confetti. We loved playing with our slime and learnt all about Non-Newtonian liquids.
We can't wait to carry out more investigations over the course of the half term :)
Well done for your fantastic Halloween decorations they were all brilliant!
This week we have been learning all about the Battle of Stamford Bridge. We discovered that it was 956 years this week since the Battle took place. We used maps of the world and the UK to explore where the soldiers travelled from and three different colours of soldiers to show what happened before, during and after the battle.
Autumn Term 1
It's been a busy start to the new half term. We have had a fantastic time acting out the Battle of Hastings. We made swords from natural materials and shields to re-enact the battle. We also enjoyed using soldiers and maps to show what happened at the Battle of Hastings.